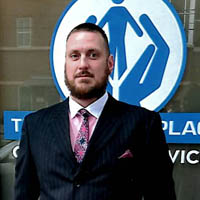 By: Rickie Glaab, Outpatient Services Peer Mentor
Since being in recovery, I now have a peace of mind and a new way of living. I have a new outlook on life thanks to The Healing Place and its intensive outpatient program. They believed in me when I did not believe in myself, or anything else.
I ended up on the doorstep at 1020 W. Market on April 12, 2021 with nowhere else to go. I lost all control due to my addiction to drugs and alcohol… or at least what little control I thought I had thanks to my lack of knowledge about myself and my addiction. Before coming to The Healing Place, the streets, jails, prisons, and institutions were all I knew. Now I know that I don't have to live that life anymore. Because of the intensive outpatient program, I now know how to handle situations that used to baffle me. I am now properly armed with the tools and spiritual principles that have been set for me. I know how to live my life on life's terms and not mine. I also get to help the next person in need and put them before my own selfish needs.
Because of The Healing Place and everything I learned here, my relationships with my fiancée and my children have been restored. I have also been given the opportunity to give back to the next person in need by being a peer mentor in Outpatient Services.
The Healing Place will always be my forever home. I owe it a great deal of debt and gratitude for giving me my life back. Before coming here, I had never encountered a place that didn't want anything from me – not even money. All that was asked of me was a willingness and desire for change. The staff helped me establish a bond with my higher power, which I choose to call God. Because of this new relationship, I pray multiple times a day – for myself and others – instead of just praying for myself when I'm in trouble.
I just want to express how thankful I am for what a positive impact The Healing Place has had on my life.