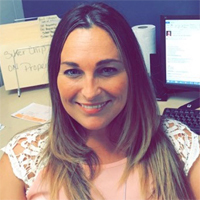 Since I've been in recovery, I have been able to grow into the woman that I was always intended to be. I am able to continue with my recovery while furthering my education, staying on track with my career, and bringing value to my community. The most important thing I have accomplished since beginning my journey into long-term recovery is that I am now a mother to my two daughters. I am present and consistent in their lives and in the lives of my family.
The Department of Corrections brought me to The Healing Place's Women's Campus in 2012. I couldn't stay out of jail and even landing behind bars began to be a relief at times. I remember exactly how I felt the day I walked in the door at 15th and Hill. I was in tears because I knew, good or bad, that my life was never going to be the same… and it wasn't.
I believe that The Healing Place gives everyone who comes into this program their own individual gifts. The greatest gift I received was my integrity. I never knew what that word really meant until my time at The Healing Place. I am able to be honest and stand for what I believe is right or good in the world without bending or breaking to please others. I get to walk in the sunlight of the spirit and be a reflection of that light so that others may find their way too.