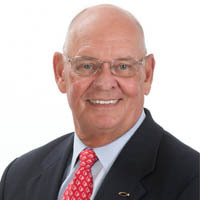 By: Jay Davidson, Executive Chairman
As I look to the what's ahead for The Healing Place this new year, I must reflect on this past year. 2021 was filled with challenges at every turn. Like everyone in our community, we continued to be impacted by the COVID-19 pandemic. Although it was a long and difficult year, the Spirit of The Healing Place prevailed, allowing staff continue providing services all 365 days without missing a beat.
The Spirit of The Healing Place is a testament to the power of committed people accomplishing the near impossible mission of reaching the addicted, providing a recovery journey, and restoring the addicted to meaningful and productive lives.
What is the Spirit of The Healing Place? The Spirit of The Healing Place is a culmination of elements that defines the heart and soul of our organization. This Spirit is embodied in every aspect of The Healing Place from the Board of Directors, through the staff, to the clients and alumni, to the greater community.
The very foundation of this Spirit is unconditional love with out expectation while being spiritually connected to a Higher Power. This love is demonstrated by the staff giving love through service and the clients loving each other to life knowing that without this selfless love, fellow alcoholics and addicts would die. Supporting this love is accountability to each other recognizing we are our brother's/sister's keeper because addiction kills.
Role modeling by the staff demonstrates integrity and credibility. Role modeling this spirit by the clients reinforces the need to be and remain connected with other like-minded fellows. The alumni who have gone through The Healing Place program play a major significant role by being the attraction for men and women struggling with addiction. Those in early recovery see themselves in the alumni who return to campus to share their experience, strength, and hope and want what the alumni have – peace, serenity, and joy in a life in long-term recovery. The alumni have instant credibility with those struggling. Through this peer-to-peer sharing of unconditional love those struggling gain the strength to change behavior.
The Spirit of The Healing Place is found in every program we offer. It is our primary focus to reach a person struggling with addiction, help them develop the tools for long-term recovery, and that each person, no matter which program they are part of or how long they are with us, has meaningful and productive life.
If you or someone you know needs help, get started by calling 502-585-4848.